Statesville's own Canterbury Tale - The Story Continues
---
gg's art frames & gifts - Reopening September 15, 2023 in Downtown Statesville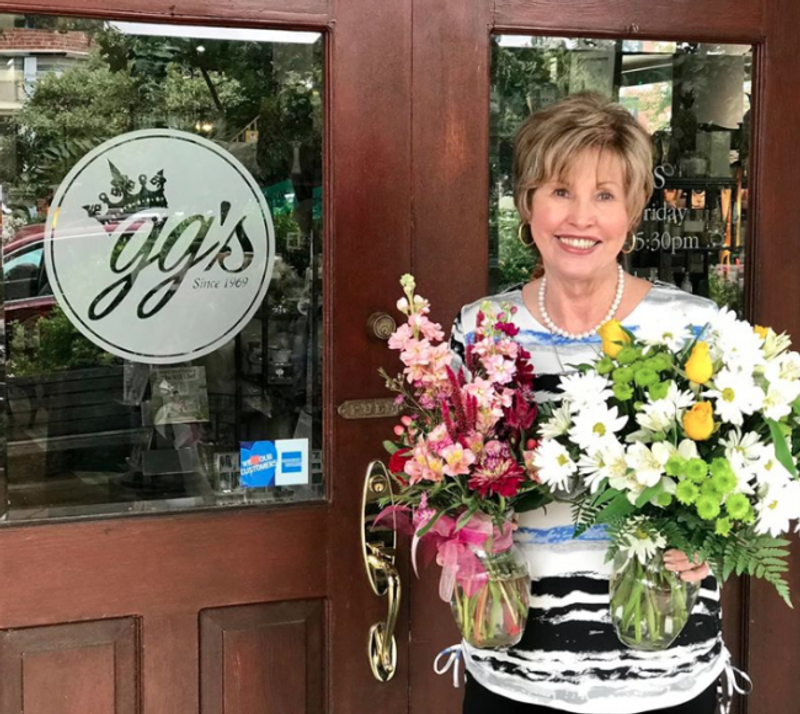 Gloria is re-opening her store at a new location, 125 W. Broad Street, and the community is eagerly anticipating her return.
Gloria Hager, the proud owner of GG's Art, Frames and Gifts, has a deep-rooted passion for retail that has kept her going strong for half a century. From the Brookdale Shopping Center to Downtown Statesville and everywhere in between, Gloria's heart has always been in Downtown Statesville.
Back in 1969, Gloria's retail adventure began with the Canterbury Shop, situated in the Brookdale Shopping Center (now the location of Walgreens). At that time, she sold books and a unique selection of gifts, setting herself apart as the sole seller of bestselling books in town. While initially book-focused, the store gradually expanded to include a diverse array of gifts, becoming an integral part of her business.
In 1973, the Canterbury Shop made its move to Signal Hill Mall and remained there for a nine-year stint. During this period, Gloria expanded her offerings, including Italian Ceramics, distinctive gift lines, stuffed animals, jewelry, Pennsylvania Dutch items, and even framing services.
The next chapter in Gloria's retail story brought her to Downtown Statesville, where her store occupied a charming house to the left of what is now Johnson's Greenhouse. Here, the focus shifted primarily to art and framing. Over time, Gloria emerged as one of the top print dealers in the country, featuring the works of the finest artists in her store. It was during this phase that Gloria learned her customers preferred the charm of downtown over the mall experience.
Gloria's dream gallery was the Webb House, located on the grounds of the Statesville Civic Center. She successfully acquired the Webb House, and the business thrived. She cherished her time there but always harbored a desire to be closer to the heart of Downtown Statesville.
One day, while on a leisurely walk, Gloria spotted a 'Going out of business' sign in a window. With someone already interested in renting the Webb House, she acted swiftly, purchasing the building known as the Lazenby-Montgomery Building, situated at 110 W. Broad Street. This move proved pivotal, as GG's Art, Frames & Gifts flourished for over 26 years. As Gloria often says, it's all about "location, location, location!"
In the wake of the 9/11 tragedy, Gloria observed shifts in the art industry, prompting her to incorporate more gift items into her store's offerings. During her tenure at the Lazenby-Montgomery Building, she made one final transformation, rebranding her business as 'GG's Art, Frames & Gifts'.
In February 2018, Gloria relocated to 101 W. Broad Street on the square in Downtown where she continued to provide an exceptional selection of gifts, frames, and art.
However, in April 2023, a devastating fire damaged her beloved GG's Art, Frames & Gifts at 101 W. Broad Street, forcing her to close her doors. The setback was a challenging chapter in her retail journey, but Gloria's determination remained unshaken.
Now, on Friday, September 15, 2023, Gloria is making a triumphant return to Downtown Statesville, in conjunction with the Downtown Statesville Fall Art Crawl. She's reopening her store at a new location, 125 W. Broad Street, and the community is eagerly anticipating her return.
Downtown Statesville holds a special place in Gloria's heart, as it's where her love for retail blossomed. Her very first job was at Peggy's Dress Shop in Downtown Statesville. She fondly reminisces about the vibrant Downtown scene of the '60s, with cars cruising and shops bustling. When asked what she loves most about Statesville, her eyes light up, and she eagerly shares her deep affection for her hometown.
"It makes me happy to see Downtown thrive again, with young people moving to Statesville and businesses open and doing well," she remarks. Gloria's warmth extends to the people of Statesville, whose kindness she deeply appreciates. As she strolls down the streets, people greet her with smiles and waves, even if they are strangers.
In times of personal hardship, the community's kindness shone brightly. When Gloria's husband, Steve, passed away, a customer brought her homemade soup and bread daily, an act of kindness she treasures to this day.
GG's Art, Frames & Gifts embodies Gloria's belief that Downtown Statesville offers more than just shopping; it's an experience that's personal and unique for each visitor. The moment you step into her store, you're welcomed by a friendly face eager to assist you in finding the perfect item from their incredible selection. At GG's, there's something for everyone, whether you're seeking gifts, art, or simply want to share some love with the dogs and babies that frequent the store. Gloria's commitment ensures that everyone feels at home in the heart of Downtown Statesville.
Learn more about GG's Art Frames Gifts here
---
Originally posted by DISCOVER Statesville, North Carolina via Locable

DISCOVER Statesville, North Carolina
Proudly Associated With