Statesville Woman Spreads Stroke Awareness: "Do Not Be Hesitant, and Immediately Call 9-1-1"
---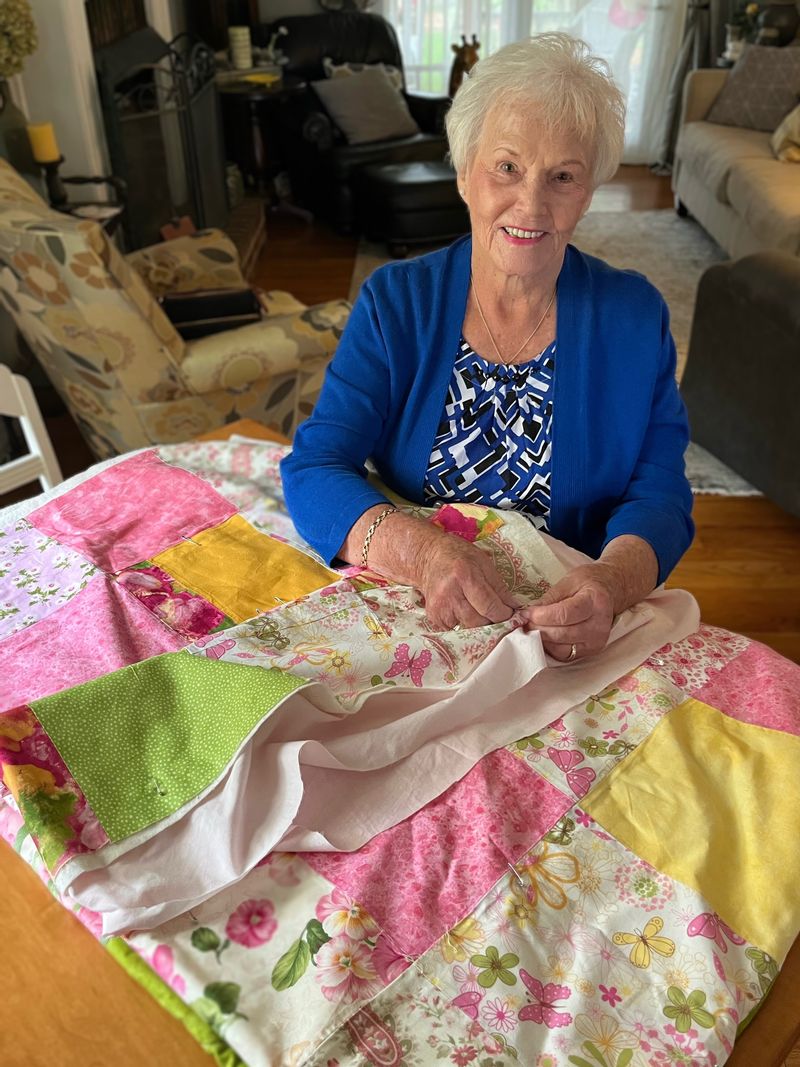 Monday, May 29, 2023
During a stroke, every moment matters. Hazel Davidson, of Statesville, may understand that better than anyone.
The evening of January 19, 2023, started out as a typical Thursday night for Davidson. She had just sat down at her kitchen table to finish sewing her great-granddaughter's quilt before heading to bed. There are two hobbies the 86-year-old could do with her eyes closed — sewing and baking. So, when Davidson could not thread her needle, she knew something was wrong. Little did she know the decision she made on that seemingly typical Thursday night would save her life.
"I was sewing and was trying to thread a needle, and I couldn't figure out why my arm would not get any closer to the needle. I had never had trouble with that before, but for some reason, I just could not do it," said Davidson.
"All of a sudden, I could just start feeling my arm getting limp, but it was never a painful feeling. It was different than when your arm falls asleep. I didn't feel tingling. It was like I was telling my brain to move my arm, and my arm wouldn't respond. My arm was not numb to feel, but numb to use," she added.
Davidson knew the symptoms of stroke — loss of balance, loss of vision, facial drooping, arm weakness, and speech difficulties — and wondered if she was having any other symptoms. She immediately got up and picked up a flyer off the counter to read. Her eyesight was fine, and she was not experiencing any of the other stroke warning signs. Davidson also had no family history of stroke.
"That's when I decided I would go brush my teeth and get ready for bed. I tried to put toothpaste on my electric brush, and I could not keep my arm still to put the toothpaste on," said Davidson.
Davidson thought she should just go to bed and call someone in the morning if she was still having difficulties with her arm.
"But, that's when a calmness came over me, and I knew I did not feel right about that arm. So, I called my daughter, Carla," said Davidson.
Deciding to call someone and not go to sleep was the decision that would save Davidson's life.
"My mother is very independent, so when I heard that fear in her voice over the phone, I knew something was wrong. I'm so thankful she called me. So many people who live alone may think they don't want to bother anyone or that they will be OK until the morning. But if she had gone to bed and waited to see how she felt in the morning, it could have been detrimental," said Davidson's daughter, Carla Johnson.
Carla called 911 on the way to Davidson's house, and the ambulance showed up within seconds after her arrival. Davidson was transported to Iredell Memorial Hospital.
"On the way to the hospital, I was scared, and I don't get frightened easily. The only time I really got upset was realizing that I'm not the big, brave person that I used to be, and I have to yield to somebody else's care," said Davidson.
Davidson arrived at Iredell Memorial Hospital about one hour after her arm weakness started. Hospital staff immediately suspected a stroke and sent her to imaging for CT scans. Davidson goes to Iredell Physician Network physicians for all of her healthcare needs, so her medical records and history were already in the electronic health record system for the emergency department providers to view, which expedited her care.
"They knew immediately what was going on. I could not have been more impressed or expedited any faster. It was almost like it happened so fast, I didn't even realize where I was, and before I knew it, I had completed my imaging scans and was in a room," said Davidson.
Once in the room, Davidson was wondering what neurologist, a doctor who treats brain conditions, would be there to treat her.
"And then, all of a sudden, this monitor screen comes on, and there's this doctor talking to me. At first, I thought it was just like a routine video on there, but the doctor was real. It was a neurologist. He was at the foot of my bed, telling the room nurses, the physician assistant, and me what to do. He had me raise both legs, do different facial movements, and then he told me to raise my arms, and my right one wasn't really moving," said Davidson.
If you come to Iredell Memorial Hospital and have stroke-like symptoms but do not have a head bleed, the emergency provider on-call will use video telemedicine to consult with a neurologist on-screen from Atrium Wake Forest Baptist. By utilizing this technology, Iredell Memorial Hospital is able to have a neurologist available 24/7. The neurologist on-screen can instruct providers, nurses, and the patient, and also listen to the patient's heart, lungs, and other organs, all through video.
Once stroke symptoms start, there's a small window of time, only a few hours, for stroke victims to get life-saving, clot-busting medication. Since Davidson recognized her symptoms early and got to the hospital quickly, she was able to receive this medication, called tPA, that dissolved the clot in her brain without having to undergo any surgical treatments.
Davidson could see and feel the results of the medication almost immediately. She stayed in the hospital for four days and was discharged on Monday. When she got home, Iredell Home Health nurses and physical therapists visited her twice a week for one month until she regained her strength.
"I'm back to about 98% now. The only thing that is not 100% is my handwriting. But, I am thrilled to be back to baking and sewing," she said.
"The people in the hospital were so nice and helpful. If it had not been for the immediate care that I got from them at Iredell, and all my history already being in the system, I probably would not have been where I'm at today," she added.
The month of May is National Stroke Awareness Month, and Davidson hopes that her story will encourage others to call for help if they are experiencing any of the symptoms of stroke.
"My final word is you may dwell and emphasize this month as stroke month, but every month should really be considered stroke month. Everybody should be aware at all times. If you suspect something, do not be hesitant, and immediately call 911 because it's better to be safe than sorry. Now, when I visit my brothers and their wives and families, I let them know how important it is to be aware," said Davidson.
And, as for the quilt she was sewing for her great-granddaughter on that Thursday, January 19 night — she sat back down at her kitchen table and finished it a few weeks later.