Davis Regional Medical Center Recognizes Special Delivery Director and Nurses with First DAISY Team AND DAISY Nurse Leader Award
in
News
,
General Blog
---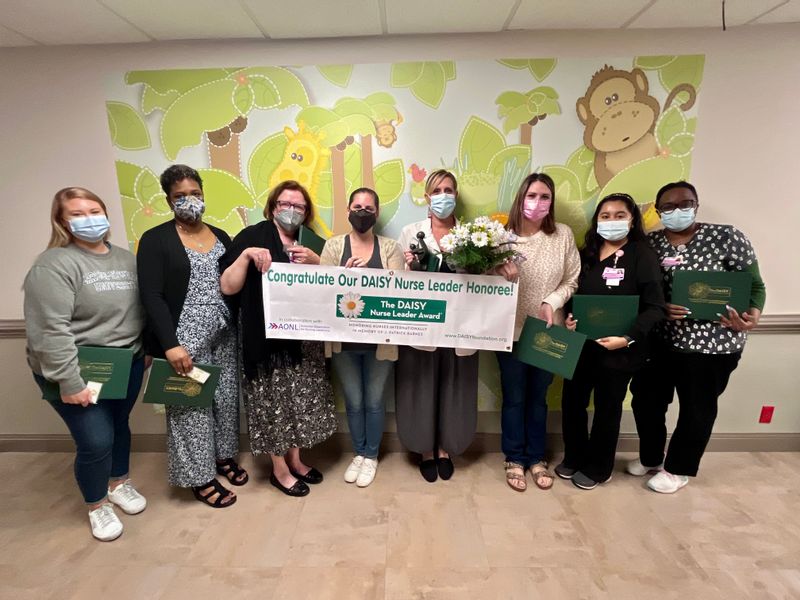 Pictured in photo: Brittany Griffin, RN, Jessamin Samuel Herman, RN, Sandy Aycoth, RN, Erika Hobbs, RN, Nicole Crotts, RN, BSN, Director of Women's Services, Abby Cloer, RN, Denise Vallejo, RN and Charmaine Wilson, RN
May 11, 2022
STATESVILLE, N.C. — The Women's Services, Labor and Delivery team is the first recipient of the DAISY Foundation Team Award at Davis Regional Medical Center. Charmaine Wilson, RN, Abby Cloer, RN, Brittany Griffin, RN, Erika Hobbs, RN, Sandy Aycoth RN, Denise Vallejo, RN, Jessamin Samuel-Herman, RN make up the recipients of the prestigious team award. The DAISY Team Award is a concept brought to us by DAISY Award Partner Thomas Jefferson University Hospital in Philadelphia. It recognizes that while an idea to achieve better patient and family outcomes may start with one individual, it often takes an entire team to implement successfully. A quote from their patient-written nomination reads, "The Lord put the exact people in our life as we needed them. We wouldn't have had it any other way."

Nicole Crotts, RN, BSN, Director of Women's Services, was the recipient of the first DAISY Nurse Leader Award at Davis Regional Medical Center. Nurse leaders who receive this award are recognized for creating an environment where trust, compassion, mutual respect, continued professional development and ethical behavior are modeled and supported. They are available and responsive to the needs of their team which positively impacts their ability to provide quality, compassionate care.

The DAISY Foundation, a not-for-profit organization, is based in Glen Ellen, CA, and was established by family members in memory of J. Patrick Barnes.  Patrick died at the age of 33 in late 1999 from complications of Idiopathic Thrombocytopenic Purpura (ITP), a little known but not uncommon auto-immune disease.  The care Patrick and his family received from nurses while he was ill inspired this unique means of thanking nurses for making a profound difference in the lives of their patients and patient families.

DAISY Foundation's goal is recognition for the efforts of extraordinary nurses. Each quarter, nurses are nominated by hospital associates, visitors, and patients and then chosen by Davis Regional's Nursing Leadership Council and Nursing Administration to receive The DAISY Award.  At a presentation given in front of the nurse's colleagues, that include fellow nurses, physicians, patients and visitors, the honoree receives a certificate commending him or her for being an "Extraordinary Nurse."  The certificate reads: "In deep appreciation of all you do, who you are, and the incredibly meaningful difference you make in the lives of so many people."  The honoree is also given a beautiful sculpture called A Healer's Touch, hand-carved by artists of the Shona Tribe in Africa.

One day, while Pat was in the hospital, he asked his family to bring him a Cinnabon® cinnamon roll plus enough for all the nurses in his unit.  With the help of Cinnabon's parent company, FOCUS Brands, The DAISY Foundation carries on this tradition by serving Cinnabons to all the nurses in the Award recipient's unit in thanks for everything they do for their patients and families.

"When Patrick was critically ill, our family experienced first-hand the remarkable skill and care nurses provide patients every day and night. Yet these unsung heroes are seldom recognized for the super-human work they do.  The kind of work the nurses at Davis Regional Medical Center are called on to do every day epitomizes the purpose of The DAISY Award," said Bonnie Barnes, President and Co-Founder of The DAISY Foundation.

This is one initiative of The DAISY Foundation whose overall goal is to help fight diseases of the immune system.  Additionally, DAISY offers J. Patrick Barnes Grants for Nursing Research and

Evidence-Based Practice Projects and provides assistance to ITP support groups.  More information is available on their website www.DAISYfoundation.org.

About Davis Regional Medical Center
Founded in 1920, Davis Regional is a 144-bed, acute care hospital serving Statesville and the surrounding counties.  With more than 300 physicians on staff in a variety of specialty areas, Davis Regional offers a wide range of health care services.  The hospital is located at I-40, Exit 154, east of Statesville.  Learn more at www.DavisRegional.com.