Iredell Health System Future 5 Awards Breakfast
Finding your purpose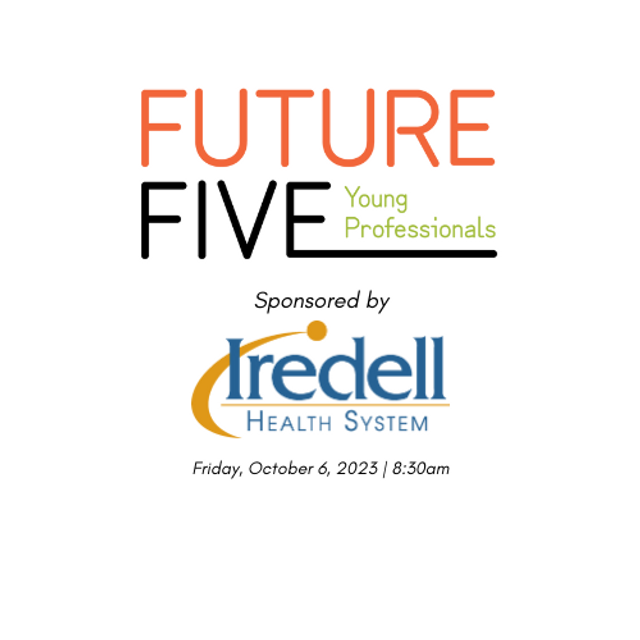 Description
Future5 annually recognizes five Greater Statesville area young professionals that are currently growing and excelling in their respective fields and positively influencing growth, prosperity and quality of life in the community. It is with great pleasure that we recognize this year's recipients:
Kelli Goodwin

Iredell County Public Library

Youth Services Manager

Benjamin Haynes

Active Chiropractic Rehab and Acupuncture

Chiropractor and Business owner

Mallory Renegar

Iredell County Partnership for Young Children

Region 9 Child Care Resource & Referral Specialist

Bradley Johnson

Iredell County Area Transit System

Transit Director
Katrina Foster

Chief Difference Maker/Owner
KKPR Marketing & Public Relations

These top 5 young professionals chosen have demonstrated commitment to the Greater Statesville area through civic and business involvement. They possess values consistent with those of Greater Statesville Chamber of Commerce including an unwavering responsibility to the community through involvement with local organizations that elevate the overall quality of life in the Greater Statesville area and our ability to attract and retain young talent.
Attendees will also hear from local young professionals in a panel discussion
Finding your Purpose
Discovering one's purpose holds paramount importance for young professionals as it serves as a guiding light, a wellspring of motivation, and a profound source of fulfillment. It lays the foundation for a more meaningful and triumphant journey in both career and life. When individuals unearth their purpose, they are empowered to make choices that harmonize with their deeply held values and passions, nurturing personal and professional development while concurrently contributing positively to the world. During our panel discussion, our esteemed speakers will generously impart their personal stories and unveil the remarkable journeys that led them to uncover their own sense of purpose.

The guest panelists are:
Hannah Scott, Instructor, Mitchell Community College and 2022 Future 5 recipient
Isais Sanchez, Owner, Sow Media
Emily Sigmon, Owner, Carolina Tan & Wellness
Join us for breakfast to recognize our amazing young professionals on Friday, October 6, 2023 at the Statesville Country Club.

Statesville Country Club
635 Deauville Rd, Statesville, NC 28625
8:30 AM EDT
to 10:00 AM EDT
RSVP Required