Leading Ladies: Managing the Adult Child/Aging Parent Relationship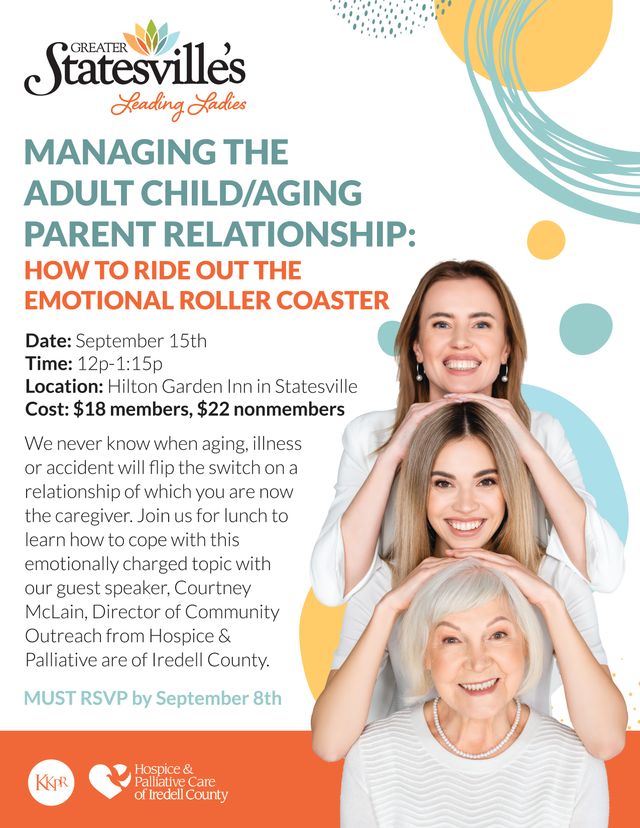 Description
Courtney McLain, Director of Community Outreach from Hospice & Palliative Care of Iredell County will be discussing the challenges we face as our parents age. At some point in our lives, the script gets flipped and suddenly we are trying to guide and care for elderly, infirm parents.  In many cases, they become the "child" in the relationship making it a difficult dynamic for both parent needing, but sometimes resisting, the help they need, and the child who must make decisions for them. This also can be a challenging dynamic if it is a spouse who is unexpectedly ill or injured, or grandparents, or other family member. Courtney and Susan will take us through some ways to help manage the emotional stress and sadness that accompanies dealing with this new relationship with our parents or family members. 
Resource information packets provided. 
Please pay below:
You will receive an invoice for the event after registering. 
Hilton Garden Inn Statesville
1017 Gateway Crossing Dr., Statesville, NC 28677
12:00 PM EDT
to 1:30 PM EDT
Private:No
RSVP Required:Yes
Accept Registration Online:Yes