Grow with Google Virtual Webinar: Learn the Basics of Google Ads
Hosted by the Lake Norman and Greater Statesville Chambers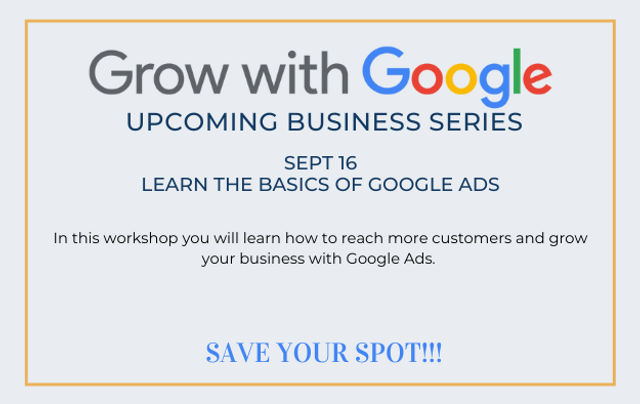 Description
In this webinar, you will learn how to reach more customers and grow your business with Google Ads. By the end of this webinar, Grow With Google Trainer Demming Bass will show you how to: - Create an account and set up an ad campaign - Write great ads, refine keywords, and include ad extensions - How to measure success As an added bonus, attendees will receive a special link for up to $150 in Google Ads FREE matching ad credit (first-time users). But hurry, spots are limited for this non-recorded webinar and will go fast.
REGISTER TO ATTEND!!!
2:00 PM EDT
to 3:00 PM EDT
Private:No
RSVP Required:Yes
Virtual Event
Please note that this is a virtual event and has no physical location.
https://community.grow.google/s/event/a0r1E00000BYRl6