Full Bloom Film Festival (FBFF) Volunteer Opportunity!
in
News
---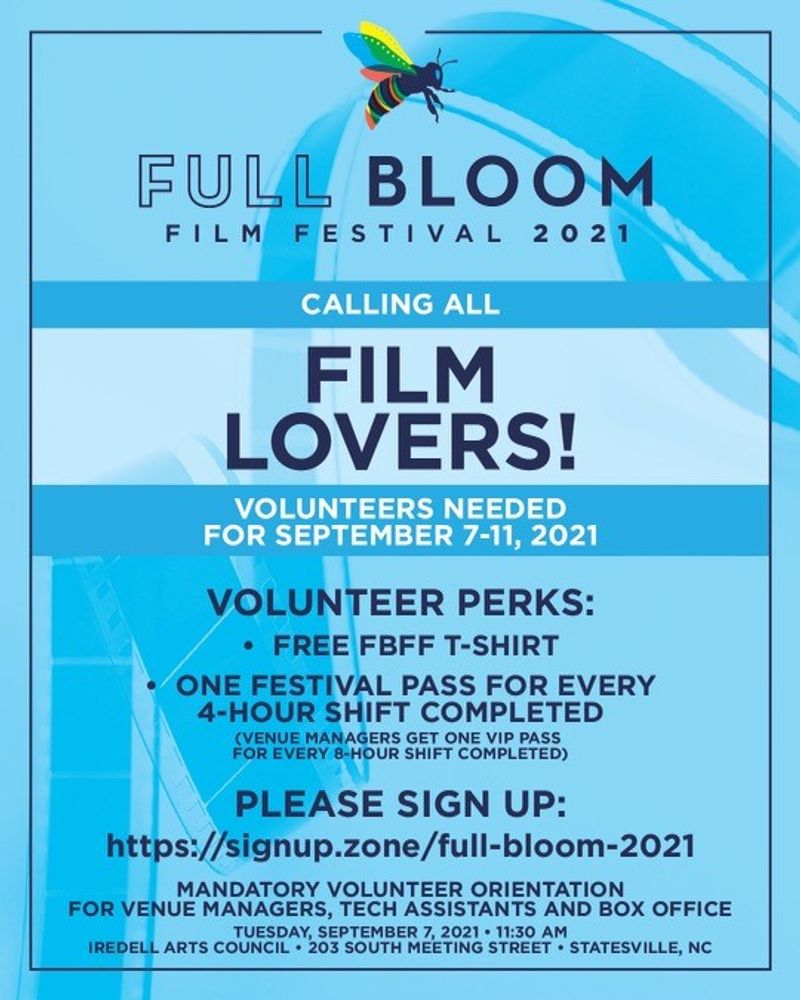 As the 2021 Full Bloom Film Festival is approaching, we hope that you will consider taking the opportunity to support the arts and community development in Statesville by volunteering for the 2021 Full Bloom Film Festival. 
No matter your skill set and background, there are volunteer opportunities available! If you have a passion for film or simply want to invest in the atmosphere of Downtown Statesville, we would love to have you. Volunteers will receive a free Full Bloom Film Festival T-Shirt as well as a Festival Pass for every 4 hour shift complete. Volunteers in the role of Venue Manager will also receive VIP Passes that grant access to all FBFF showings and private parties. 
WHEN: 
Volunteers are needed from September 7-11, 2021 
WHERE: 
The film festival and it's varying volunteer opportunities will occur throughout downtown Statesville at Lake Mountain Coffee, Shearer Hall (on the MCC Campus), the Iredell Arts Council, the Iredell Museum, Red Buffalo Brewing, and the Women's Club of Statesville. 
HOW TO SIGN UP: 
Follow the link below to sign up to help out today! A description of each position is listed. Please don't forget to list your t-shirt size. 
https://signup.zone/full-bloom-2021
If you have any further questions, please don't hesitate to reach out via email or phone call! Thank you for your continued investment in the arts.