Ribbon Cutting and Grand Opening Molly Malone's Boutique
Stop by and help us celebrate Molly Malone's Boutique new location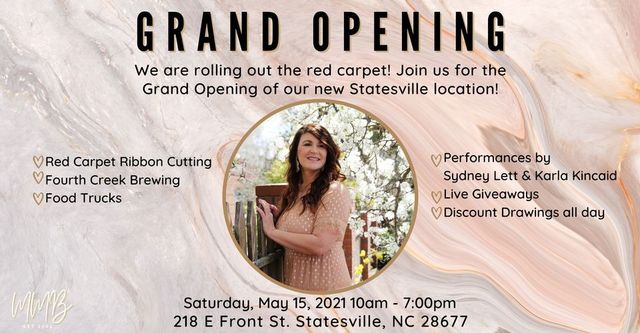 Description
Join us for an amazing grand opening event at our new Statesville location on May 15th!! It's going to be an exciting day full of events, giveaways and discounts! We will kick off the day with a Red Carpet Ribbon Cutting at 11:00 am. Come join us for the picture!
Ribbon Cutting at 11:00 AM
Wilson's Weenie Wagon will have hot dogs, chips and drinks for cash purchase from 11 am to 4 pm.
The Kincaids will be performing outside from 12 to 1:30.
Fourth Creek Brewing will be on site from 3 to 6 pm for $5 beer purchases.
There will be a wonderful performance by county singer, Sydney Lett Starting at 3pm.
Make plans to stop by and join in on the fun!
*We will be announcing the first giveaway for Grand Opening on Monday May 10th. Keep an eye out on Facebook and Instagram for the details.
Molly Malone's Boutique
218 E. Front St, Statesville, NC 28677
10:00 AM EDT
to 7:00 PM EDT
Private:No
RSVP Required:No