Attention Local Employers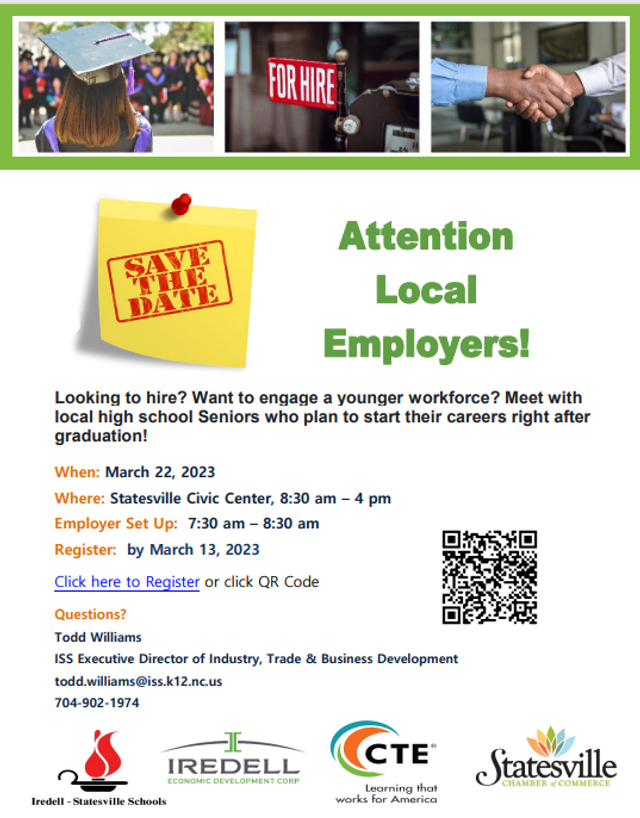 Description
Looking to hire?
Want to engage a younger workforce? Meet with local high school Seniors who plan to start their careers right after graduation!
When: March 22, 2023
Where: Statesville Civic Center,
When: 8:30 am – 4 pm
Employer Set Up: 7:30 am – 8:30 am
Register: by March 13, 2023
Questions?
Call Todd Williams at  704-902-1974
ISS Executive Director of Industry
Trade & Business Development
 [email protected] 
A great event with the objectives of:

- Student/Parent awareness of the wonderful employment opportunities right here in Iredell County
-  Student awareness of the skillsets employers are looking for and value
-  Employer visibility as we have invited seniors from all over Iredell County and we have have opened up the PM session to all MCC and Early College students.  
Since March 22nd is an Early Release Day for ISS students, Parents can attend with their students in the PM session.  Transportation is provided in the AM session for all ISS Seniors from their home school. 
Statesville Civic Center
300 S. Center St., Statesville, NC 28677
8:30 AM EDT
to 5:00 PM EDT
Private:No
RSVP Required:No
Accept Registration Online:No